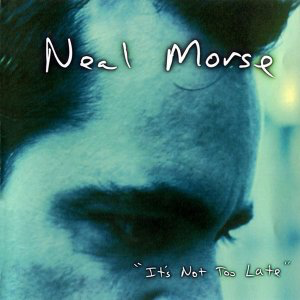 January 1, 2019
Neal Morse
Radiant Records
It's Not Too Late is the second solo outing for Neal Morse and follows in the footsteps of his first CD. This is a more intimate, piano/keyboard led album and covers a wide variety of styles through melodic rock and blues to gentle acoustic tracks and strong ballads. The album comprises of thirteen songs, written over a long period of time – the earliest dating back 1982 and all have the comfortable air of an intimate almost "live" recording. Neal chooses to count in and even comment on a number of the tracks, this laid back approach and obvious passion for the songs makes you feel almost a part of the music. The songs that make up It's Not Too Late are more concise and song orientated than the music found on Spock's Beard albums, however, Neal's distinctive voice and style of delivery will make it accessible to followers of the band and ultimately, given the right airplay It's Not Too Late could introduce Neal Morse to a much wider audience.
Tracklisting:
It's Not Too Late
All The Young Girls Cry
Leah
The Angels Will Remember
So Long Goodbye Blues
The Change
Broken Homes
Oh Angie
The Eyes Of The World (George's song)
Ain't Seen Nothin' Like Me
I Am Your Father
Something Blue
The Wind And The Rain
Additional musicians:
Nick D'Virgilio – drums
Jordan Zimmerman – drums
Brad Wetmore – bass
Greg Westall – guitar
Chris Carmichael – strings
Letty Jones – french horn
Jim Hoke & Neil Rosengarden – horns
Susanne Christian & Debbie Bresee – backing vocals
Copyright © 2021 Radiant Records. All rights reserved.